On May 15, 2018, the 9th China International Police Equipment Expo hosted by the Ministry of Public Security of the People's Republic of China opened in Beijing.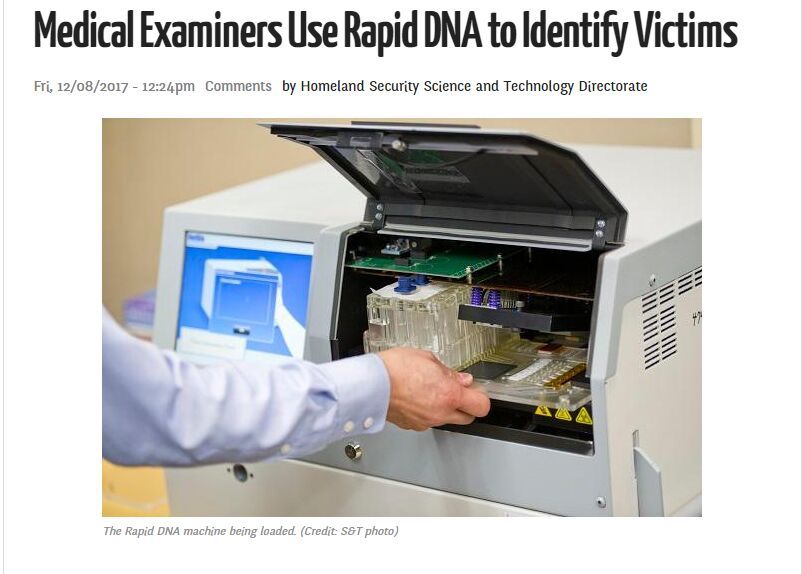 In late November 2017, the Massachusetts Office of the Chief Coroner ( MaOME ) released their first official identification of the deceased based on the use of rapid DNA technology in their laboratory. This represents a successful transition from rapid DNA technology to national institutions. And use AABB (formerly the American Association of Blood Banks) as the identification standard for rapid DNA testing for relative identification.
MaOME was recently authorized to use rapid DNA technology for relationship testing, developed by the Bureau of Homeland Security Science and Technology (S&T). Chris Miles, deputy director of S&T Standards Integration and Application, explained that a single fast DNA device replaces all the typical laboratory equipment required for DNA testing. If necessary, MoCME can also bring fast DNA equipment to emergency locations to identify victims. The new technology should significantly reduce the time it takes for families to help their loved ones find the remains. MoCME investigates the time of sudden violence and accidental death, and identifies human remains.
Before certification, MaCOME relied on a university laboratory to process DNA samples. The laboratory results are accurate, but it takes about eight months to get the results. MoMeMe purchased ANDE rapid DNA technology in June 2015. AABB, formerly the American Association of Blood Banks, is the only standard and certification body for relative identification. Miles worked with MaOME to ensure that they met all the relationship testing standards and to prepare for their on-site assessments. AABB conducted on-site assessments on August 14, 2017. MoMeME is certified by a relative test and uses direct samples from people and bones from the deceased to match the family of the deceased.
The AABB rapid DNA technology standard, classified by AABB as a "closed system", is a committee of relationship test ethicists and users from different fields. Written by a volunteer committee composed of representatives from the Department of Defense, U.S. Citizenship and Immigration Services, and state governments. Miles is a member of S&T's Capacity Development Support Office and a member of the AABB Relationship Testing Standards Committee.